Enjoy the Finest
in Local Seafood & More
---
Join us nightly for the best in seasonal Alaskan cuisine, wine, beer and spirits.
Open Wednesday - Monday 5:00 PM - 10:00 PM
~ Closed on Tuesdays ~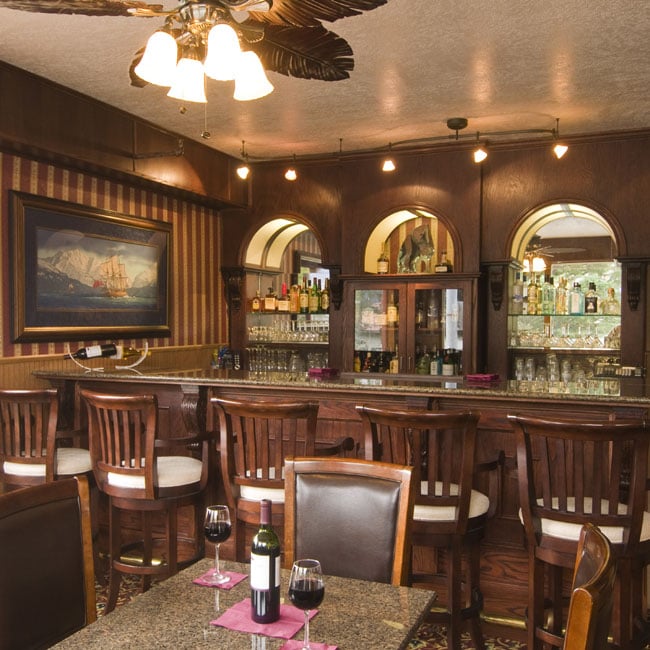 Our Menu
Be captivated by a truly Alaskan culinary experience
in the warm historic setting of the Hotel Seward.
Our fresh, seasonal ingredients combine with impeccable service
to delight all hungry adventurers.

Starters
Fried Halibut Bites: $22
Local Halibut & homemade tartar sauce
Steamed Clams: $21
Garlic, white wine, parsley, butter & toast point
Ahi Tuna Tartare: $17
Ahi, cucumber, avocado & sesame vinaigrette
Halibut Chowder (bowl): $16
Local Halibut, potatoes, celery, bacon & onions
Baked Brussel Sprouts: $13
Sweet soy glaze, toasted sesame seeds & cilantro
Salads
Caesar Salad: $14
Romaine lettuce, toasted pumpkin seeds, parmesan cheese, croutons & Caesar dressing


House Salad: $12
Crisp lettuce, cucumbers, carrots, diced tomatoes, shaved red onions, shaved radishes & homemade apple cider vinaigrette
Lite Fare
Kobi Burger: $25
Aioli, pickled onions, leaf lettuce & tomato - served with house-made potato chips
Add cheddar cheese: $1
Add bacon: $2


Grilled Chicken Breast Sandwich: $19
Sweet curry aioli, oven-roasted tomatoes, avocado spread, lettuce & onions - served with house-made potato chips
Add cheddar cheese: $1
Add bacon: $2


Fish Tacos (three): $21
Rockfish, corn tortillas, Pico de Gallo & lime crema
Entrees
Wild-caught Pan Seared Halibut: $38
Herb potatoes, asparagus, bacon & pomegranate balsamic reduction


Wild-caught Pan Seared Salmon: $36
Lentils, roasted tomato, carrots, fennel & beurre blanc


14 oz Ribeye: $41
Caramelized shallots, parmesan, whipped herb potatoes & port wine demi


Roasted Chicken Breast: $32
6 oz chicken breast, potato gratin, mushroom ragout & parsley pesto


Roasted Vegetable Plate: $28
Seasonal vegetables with whipped potatoes
The Sweet Side
The Fifth Avenue Bread Pudding: $10
Salted caramel & whipped cream


Green Tea Panna Cotta: $10
Served with raspberry compote


Ice Cream (3 scoops): $10
Vanilla or Chocolate (you choose)













*Consuming raw or undercooked meats, fish, eggs, or any foods of animal origin,
puts you at risk of food borne illness.