The official holiday season may be behind us but the celebrations never stop at historic Hotel Seward, Alaska's top hotel. Can you smell the romance in the crisp winter air? Valentine's Day is right around the corner and Seward's premiere boutique, historic Hotel Seward, has luxurious accommodations to spoil your most loved one.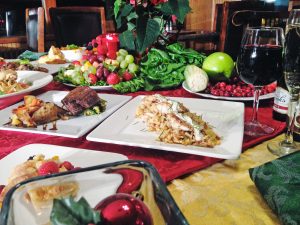 Combine a decadent stay in a Deluxe or Executive room in our Alaska Wing with an intimate meal at Ms. Gene's Place, historic Hotel Seward's unique Victorian lounge and restaurant, the perfect venue to spice up your love life. Chef Aaron Love (seriously, that's his name) has crafted a special Ms. Gene's Place Valentine's Day menu, right from the heart:
Salad: The Winter Love
With spinach, kale, heirloom tomatoes, pine nuts, red onion, cauliflower, and goat cheese.
Starter: Arrows for the Heart Prime Kebabs
Prime rib (cubed), onion, bell pepper, mushrooms, and balsamic reduction glaze.
Entrée: Heart and Soul Silver Plate
Garlic butter broiled 6 oz. Lobster Tail & 5 oz. Perfectly Cut Filet Mignon
Served alongside a soft-baked potato with sour cream and chives, seasoned mixed vegetables, and baguette crostinis.

Dessert: Sweet Kisses Chocolate Strawberry Short Cake
Call historic Hotel Seward, the premiere boutique hotel in Alaska, at 907-224-8001 or visit our website. Ask about our special Valentine's Day pricing and be sure to mention you would like to join Chef Aaron Love at Ms. Gene's Place, for a very extraordinary Victorian romantic dining experience!