Kayak Seward Alaska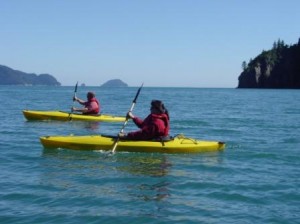 (Book your Seward Kayaking trip)
Kayaks were originally developed by indigenous Arctic people, who used the boats to hunt on inland lakes, rivers and coastal waters. The Coast of Alaska, Seward, the Prince William Sound, and the Gulf of Alaska were among these waters. These first kayaks were constructed from stitched animal skins such as seal and whale stretched over a wooden frame made from driftwood, since many of their habitats were treeless. The Kayak was historically, and often still is, propelled by a double-bladed paddle in the hands of a sitting paddler. Kayaks are at least 4,000 years old. The word "kayak" means "man's boat" or "hunter's boat". Today a kayak is defined by the International Canoe Federation (the world sanctioning body) as a boat where the paddler faces forward, legs in front, using a double bladed paddle. Captain Cook during his voyage of 1778 to Alaska was especially impressed with the kayaks, of the native people he encountered in the Prince William Sound. and the way they kept seawater and rain out of them when underway. He wrote in his log " They are small in stature, but thick set good looking people,…and the women are more delicate,…Their frocks are made of the skins of different animals, reaching generally to the ankles, all of which they wore with the fur side out. When it rains they put over this another frock, ingeniously made from the intestines of whales or some other large animal. It is made to draw tight around the neck, its sleeves reach to the wrists, around which they are tied with a string, and its skirts, when they are in their canoes, are drawn over the rim of the hole in which they sit, so that no water can enter, and at the same time it keeps the men entirely dry, for no water can penetrate it." Today this garment Cook observed is seen on almost all Seward kayaking trips and is be known as a spray skirt.
Kayaks have evolved from their origin as watercraft of those indigenous Arctic people, to the fabric kayaks on wooden frames of the pre 1950s, followed by fiberglass boats of the 1950's. In 1973 plastic Kayaks were first introduced. Plastic allowed kayaks to be made smaller, stronger and more resilient than those made of other materials.
There are many classifications of kayaks based on their intended use. There are also several configurations of kayaks: sit on tops, cockpit style, single person, tandem, and even triple cockpit boats. Single or Tandem, Touring/expedition kayaks made of fiberglass or plastic, are most frequently used in Sea or Ocean Kayaking characterized as taking kayaks out in the ocean or open water. There are numerous Seward Kayaking trips for the beginner to the seasoned veteran, designed to discover Resurrection Bay and Kenai Fjords National Parks abundant marine wildlife, glaciers and breathtaking beauty.
Seward Kayaking trips are generally for ages 11 to 70 years and no experience is necessary. On custom or private trips in calmer, secluded areas or Resurrection Bay younger aged children are often allowed. Parties that desire to include young children are encouraged to schedule custom trips or to participate in expeditions designed especially with families in mind.
Seward Alaska's Kayak trips will provide friendly and informative, trained kayak guides and all necessary sea kayak equipment, safety gear, and cooking gear, dry bags, utensils, and tents (on multi-day trips).
Things to bring would often include: dressing in 2 – 3 layers, tennis shoes, hat, fleece sweater, wind shell, rain gear, sunscreen, water, sunglasses, and lunch or a snack. Book your Seward Kayaking trip today on line or call Hotel Seward at 1-800-440-2444.