Hotel Seward is Dog Friendly!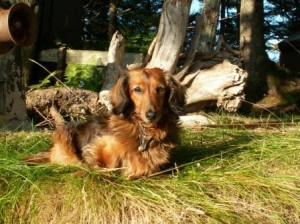 Hotel Seward would like to introduce the most resent addition to their already warm, friendly staff and ownership. Cody! Cody is a miniature longhair dachshund. Cody doesn't see himself as a dog but rather the hotel mascot and professional greeter, to His hotel. Cody was a rescue dog and weighed only 6 pounds when he was given to us. He's now 11 pounds and full of energy (when he's not sleeping) and you will hear him jingling through the Hotel hallways when you come to visit.
Cody would like to put out a warm paw of welcome to his four pawed friends and remind their parents, Hotel Seward is dog and pet friendly. Remember to call early for reservations because, even with all of Cody's influence, pet rooms are still limited. Pet rooms are located on the first floor with a $25 pet fee and signed pet agreement. All pets must be preapproved. Thank you for your understanding.
907-224-8001