Searching for an Alaska restaurant to include in a short getaway or an Alaskan winter vacation? Winter is the best time to enjoy historic Hotel Seward's intimate Victorian lounge that houses Seward's best restaurant, Ms. Gene's Place. Charmingly decorated, it is the perfect winter venue for a romantic night out, a business meets pleasure breakfast meeting, or a long overdue dinner between friends.
Ms. Gene's Place has all-new restaurant menus with all-new specialty food items, prepared with love by historic Hotel Seward's Chef Aaron, famous for big smiles and a big heart. For Ms. Gene's Place breakfast, try our Signature Eggs Benedict with Homemade Hollandaise, now available five days a week. For a fine dining experience at historic Hotel Seward, be sure to check out our Salmon Spaghetini, a homespun dish with flavorful sun-dried tomatoes, featuring a creamy specialty sauce.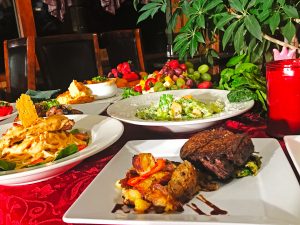 Historic Hotel Seward's Ms. Gene's Place Winter Hours:
Breakfast: Wednesday through Sunday, 6:30am to 11:30am
Dinner: Friday and Saturday, 5:30pm to 9:00pm
Combine a sumptuous stay at historic Hotel Seward, Alaska's premier hotel, with a delectable meal at Ms. Gene's Place, a truly unique Victorian lounge setting! Check out our website or give us a call at 907-224-8001!